From Mechanic to American Mega-Dealer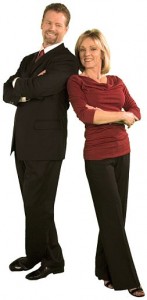 Next time you visit your mechanic, take a closer look. One day, that person may own the very dealership he repairs cars at today. That's the story of Randall Reed.
With over 30 years of automotive experience, Randall Reed, along with his wife Sherry, owns one of the largest, privately held dealer groups in the country with locations in greater Houston, Dallas and Huntsville.
Randall Reed's equation for success? Hard work, honesty and treating people fairly equals to success! The family-owned business instills solid philosophies, beliefs and morals throughout all facets of its operations.
In addition to great service, you'll find a huge inventory of vehicles at rock-bottom prices. That promise is backed by our $10,000 Low Price Guarantee* to ensure you get the best deal in town.
The Reed family also believes in giving back to the community. From local events to sponsoring programs for disadvantaged families, they know the importance of sharing one's good fortune. Randall Reed grew up in a very poor, single-parent home. "I've been working since I was 12," he said. "All along, there have been people in my life who have taken time to shape who I am today."
"God has blessed us," Reed said. "My wife and I have three wonderful children. We've been married and successful in business for over 20 years." He attributes that success to you, the consumer. "There are thousands of customers to whom Sherry and I owe everything in business. I am very thankful."
Randall Reed is also the founder and CEO of Starbase Aviation, an affiliate of World Class Automotive Operations, a multi-state automotive Mega-Dealer. Mr. Reed is also an accomplished ATP rated pilot and flies his Citation CJ2 on a regular basis.
Recognizing the tremendous personal and business benefits available from his own private-jet travel, Randall Reed decided to take a hard look at the overall business aviation industry. Quickly realizing that there was a tremendous growing demand for a company that could provide the exceptional levels of service and value that he brought to the customers of his other businesses, Randall Reed founded and now oversees yet another cutting-edge company, this time in the fast-paced world of business aviation. Randall Reed's Starbase Aviation is one of the aviation industry's fastest growing aircraft charter, management, membership and sales operations.
Visit starbasejet.com for more information.