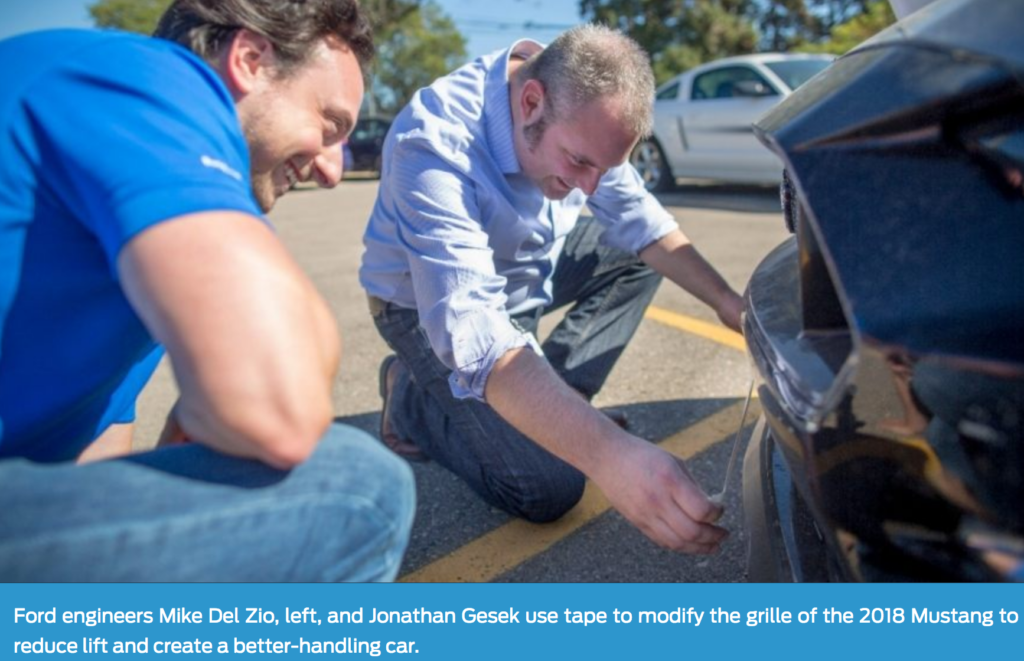 We all know that everything is more technology driven these days, especially when it comes to designing, building and even testing vehicles.  However, in the data-driven, computer-monitored world, sometimes there simply is no replacement for the human touch. Ford engineers Jonathan Gesek and Mike Del Zio are proof that both the objective and subjective remain integral parts of car development.
How so? For example, after driving a high-speed lap at the test track in a prototype Mustang, Del Zio, a vehicle dynamics engineer – the objective one – reported that despite wind tunnel numbers that would indicate otherwise, the car wasn't responding around corners to his satisfaction. Gesek, who is an aerodynamics engineer – the subjective one – had a quick to stick solution.
Gesek applied a simple strip of duct tape over the lower gap of the grille. The goal was to reduce what is known as front-end lift. Del Zio re-tested the car, paying attention to the vehicle's response when cornering at high speed. The result: a better-handling car and a modified grille.
"That little strip of tape made all the difference," Del Zio said. "The key to the subjective is confidence. At the end of a straightaway, what confidence do you have in being able to brake and make a turn? Things start to come up fast at 155 miles an hour."
In recent years, Gesek and Del Zio devoted hundreds of hours to improving the aerodynamic performance of the new 2018 Mustang, helping maintain or improve upon EPA-estimated fuel economy ratings over current models by up to 5.6 percent.
Front-end styling changes include a lowered nose, a larger front splitter that adds downforce and helps keep the front end planted to the ground, and a rocker shield that allows air to flow better underneath the car.
Active grille shutters are standard across the lineup on non-Performance Pack-equipped vehicles, reducing drag at higher speeds by completely closing off the grille, sending air over and around the car instead of into the engine compartment.
The changes improve aerodynamics by reducing drag (by up to 3 percent on the EcoBoost® model) and improve performance by helping Mustang keep a better grip on the road.
When you're ready to test a Ford vehicle for yourself, visit www.ReedHasIt.com to shop thousands of vehicle online.
Source: https://media.ford.com/content/fordmedia/fna/us/en/news/2017/10/how-one-piece-of-duct-tape-improved-handling-and-efficiency-in-n.html