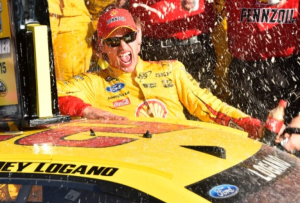 Ford sweeps the Daytona Speedweeks with a Daytona 500 victory! Joey Logano wins the Daytona for the first time driving a Ford Fusion. "What an amazing moment. Wow. To win this race is just amazing," Logano said, "I have the best team on pit road for sure. These guys are awesome.
This Daytona wins makes it the 14th overall for Ford in "The Great American Race." It also marks the first time Ford has swept all of NASCAR's top three touring divisions in the same weekend since last August at Bristol Motor Speedway. Ford has remained undefeated at Daytona International Speedway in 2015.
Today's Ford Finishing Order:
1st – Joey Logano
10th – Greg Biffle
11th – David Gilliland
12th – Sam Hornish Jr.
15th – Aric Almirola
17th – David Ragan
22nd – Cole Whitt
26th – Bobby Labonte
29th – Ricky Stenhouse Jr.
30th – Trevor Bayne
31st – Michael McDowell
39th – Ryan Blaney
41st – Brad Keselowski
Ford has a longstanding history of winning the Daytona 500. Check out this list.
1963 – Tiny Lund (Wood Brothers)
1965 – Fred Lorenzen (Holman-Moody)
1967 – Mario Andretti (Holman-Moody)
1969 – LeeRoy Yarbrough (Junior Johnson)
1978 – Bobby Allison (Bud Moore)
1985 – Bill Elliott (Harry Melling)
1987 – Bill Elliott (Harry Melling)
1992 – Davey Allison (Robert Yates)
1996 – Dale Jarrett (Robert Yates)
2000 – Dale Jarrett (Robert Yates)
2009 – Matt Kenseth (Jack Roush)
2011 – Trevor Bayne (Wood Brothers)
2012 – Matt Kenseth (Jack Roush)
2015 – Joey Logano (Roger Penske)